This regional funding has been provided by the government's national Children's Social Care Covid-19 Regional Recovery and Building Back Better Fund.
London's Recovery Plan reflects the particular impact of the pandemic on children in London (15% of all children in England), the higher than average costs in London and the particular challenges faced in the capital as a result of Covid. To date, funding of LIIA from DfE and regional LA subscriptions has supported an acceleration in sector-led improvement activity in London which has already built a strong culture of collaboration and demonstrated significant benefit for London's Children's Services.
This further funding will bear dividends in supporting London's children and children's services to recover from the impact of the pandemic and continue its upward improvement trajectory.
The money will be spent across the 3 strands of London's recovery plan including; Regional Priorities, Practice Solutions and Scale & Spread of Innovation, with key collaboration across all London regions by LIIA and many of our London Local Authorities.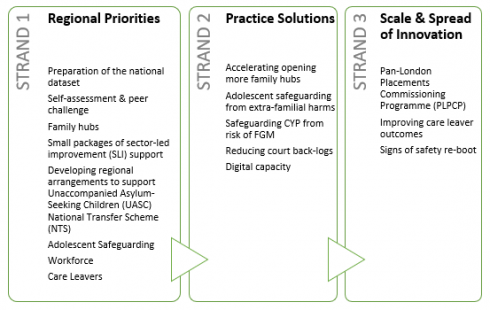 Alongside LIIA'S existing plans to progress ALDCS priorities in the key workstreams of SEND, Adolescent Safeguarding, Workforce and Resources & Sustainability, this additional funding will boost the impact of existing priorities aligned to the 3 strands of recovery therefore enabling the acceleration of ongoing transformative work with London's children, young people and families.
Sean Harris, Chair of the London's Children's Innovation and Improvement Board commented: 'This is an excellent result for London's children and families and a recognition of London's strong foundation of innovation and collaborative practice. We look forward to getting on with delivering these projects from which children in every London local authority will benefit.'
For more details contact Ben.Byrne@londoncouncils.gov.uk, Strategic Lead – London Innovation & Improvement Alliance (LIIA).