"We all carry the responsibility of joy for the young people in this city."
Martin Griffiths – consultant trauma surgeon and National Lead for NHS violence Reduction Programme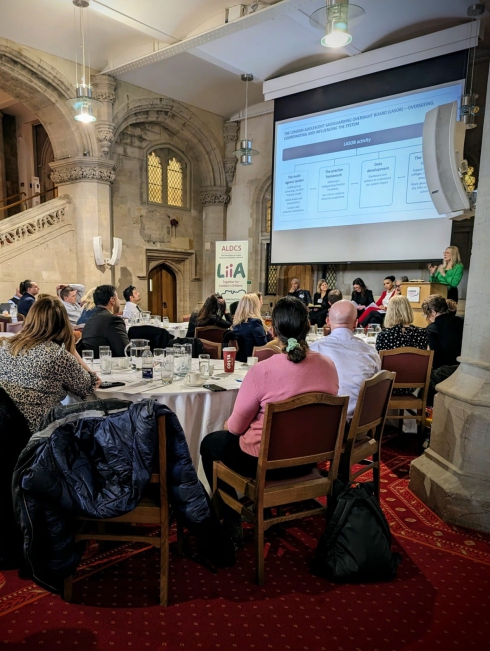 This week saw us proudly host our annual children's summit and first in-person event post-pandemic at The Livery Hall, Guildhall alongside the Association of London Directors of Children's Services (ALDCS). The summit, chaired by Cllr Ian Edwards, leader of London Borough of Hillingdon and London Councils Executive Lead for Schools and Children's Services, and entitled 'Together for London's Children', was attended by over 160 delegates made up of a wide variety of London-wide senior figures from children and young people's services. Also in attendance was the Permanent Secretary from the Department for Education Susan Acland-Hood who, in addition to a pre-recorded address from Claire Coutinho Minister for Children, Families and Wellbeing, shared some of the findings from the recently published Care Review Implementation Consultation.
Following an overview of ALDCS Innovation and Improvement work presented by Ade Adetosoye OBE, Chief Executive of LB Bromley / Chief Lead Advisor for Children's Services, and Martin Pratt, Deputy Chief Executive and Executive Director for Families LB Camden and ALDCS Chair, we were delighted to welcome Martin Griffiths, consultant trauma surgeon and National Lead for the NHS Violence Reduction Programme as our keynote speaker. Martin presented delegates with an inspiring and energising address, sharing his observations on the current issues London's children and young people face and how joined-up working is key to making their lives better.
The event also gave delegates the chance to join workshops and learn more about three key areas of work being undertaken to improve the lives of children and young people. These included:
Young People: Supporting young people's safety and well-being, Chaired by Cllr Grace Williams (Leader LB Waltham Forest) / Martin Griffiths
Resources and financial sustainability: Commissioning together to improve outcomes and value for money, Chaired by Cllr Penny Frost (Shadow London Councils Lead for Schools & Children's Services / Chair of Education & Children's Services Committee, Richmond Council), and Chris Munday (ALDCS Lead for Resources and Sustainability and DCS, London Borough of Barnet)
Workforce: Addressing capacity, equality, well-being and cost together, Chaired by Cllr Ian Edwards, Nigel Chapman (ALDCS Workforce Policy Lead and DCS LB Brent), and Debbie Jones (ALDCS Lead on National Workforce Taskforce and DCS Croydon)
Each workshop was supported by a panel comprising of various professionals from across the spectrum of London's children and young peoples' services – full details can be found in the documents below.
'Together for London's Children' summit was a resounding success and we will be sharing the findings shortly, but in the meantime a huge thanks to everyone involved, especially our friends The City of London for hosting and their continued support.